Fans of the Oakland Raiders look on against the New England Patriots during an NFL game on December 14, 2008 at the Oakland-Alameda County Coliseum in Oakland, California. (Jed Jacobsohn/Getty Images)
OAKLAND (CBS SF) – Those of you hoping that Jon Gruden is going to abandon his announcing gig to return to a Raiders club playing the worst football in the National Football League are out of your minds. The only way Gruden would ever get back into the game is with full control of his roster, and a hands off approach is not exactly what the Raiders are known for.  Dennis Allen is just the latest coach held accountable the failings of the entire organization.
Since Gruden's departure following the 2001 season, the Raiders have gone through Bill Callahan, Norv Turner, Art Shell, Lane Kiffin, Tom Cable, Hue Jackson, and Allen. So who's the next man up? It's going to take a bold pick to turn things around. Here are some options that would shake things up in Oakland:
READ MORE:
Curry And Warriors Rout Mavericks, 130-92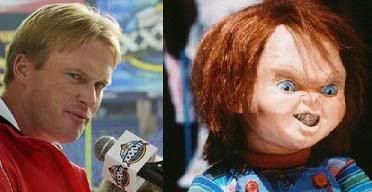 Chucky
If the Raiders can't bring back Gruden, why not grab his doppleganger? The two have long been compared based on their fierce facial gestures. But they also share a methodical attacking style and a the love of a good comeback. Chucky has inexplicably been revived several times at the box office since 1988.
Art Shell
If you're a believer in the old "third time's a charm" philosophy then this is your pick. The Hall of Fame tackle has done two tours as Raiders coach. By current standards, his career 56-52 record is downright dreamy. His last stop in town didn't end so well though he was 2-14 in his one-and-done 2006 season. At this point though, would Raiders fans take that?
King Leonidas (The 300)
A lot has been made about the Silver & Black "losing their fight" under Dennis Allen, but the truth is that Allen has faced a talent deficit from the moment he set foot in Oakland. Who's better a leading undermanned troops into battle than the man who fended off an invading Persian army of 300,000?
READ MORE:
Fire Burning At Car Dealership Shuts Down El Camino Real Road In Santa Clara
Coach Taylor (Friday Night Lights)
What's the saying? "Clear eyes, full hearts, can't lose" At this point we'll take anyone who promises to end a 10 game losing streak, even if it's the coach of a fictional high school team.
General Patton
The Raiders ground game is a joke. They're dead last in rushing yards, well behind a Chargers team that is handing the ball off to it's third and fourth option at running back. What they need is someone who get the most out of Darren McFadden and Maurice Jones Drew. Who better than 'Old Blood and Guts?' America's most famed ground strategist of World War II used to run the military's tank school, surely he can get the Raiders running over people again.
John Madden
Talk about a guy who's done it all for the Raiders. Nobody knows how essential it is to score more points than the other team better than Madden. He'll get this team back to scoring video game points in no time.
MORE NEWS:
French Bulldog Stolen At Gunpoint Returned To Castro Valley Family
Whoever the coach is, all we ask is this, Just Win Baby, please?